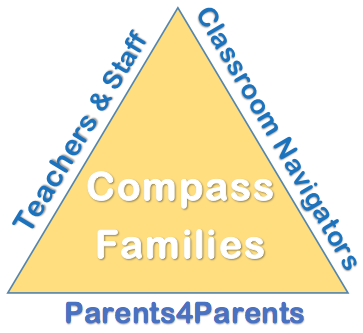 A triangle of support for Compass Families

2017-18 P4P Chairpersons:   Tracie Thorson, Christine Polgardy, Stephanie Caprario, Erin Ashrafi
DID YOU KNOW…the Compass is used to create a precise triangle? With the Compass as our guide, we draw three sides, all of equal importance, to come together, forming the perfect shape. We embrace this concept here at Compass SchoolHouse to provide an interactive support system for our families. The "sides" of support that come together with the Teachers & Staff are the Parents4Parents Network and Classroom Navigators.
Parents4Parents serves as an extension and complement to the mission of Compass SchoolHouse. Through educational programming, social events, and philanthropic activities Parents4Parents is both an online and personal network of extensive resources that helps connect families to our school and local community.
Classroom Navigators are parents that act as a liaison between the classroom, the families, and the Parents4Parents network. These individuals communicate reminders for upcoming school and classroom events, assist in organizing these events, organize play dates outside of the classroom, and act as our "sunshine" group for families and children during important life events (i.e. new baby, loss in the family).
The families at Compass SchoolHouse can gain ease and feel an even greater sense of security by knowing that there is a connection of these three supportive sides in their childrens' school lives and in their community.