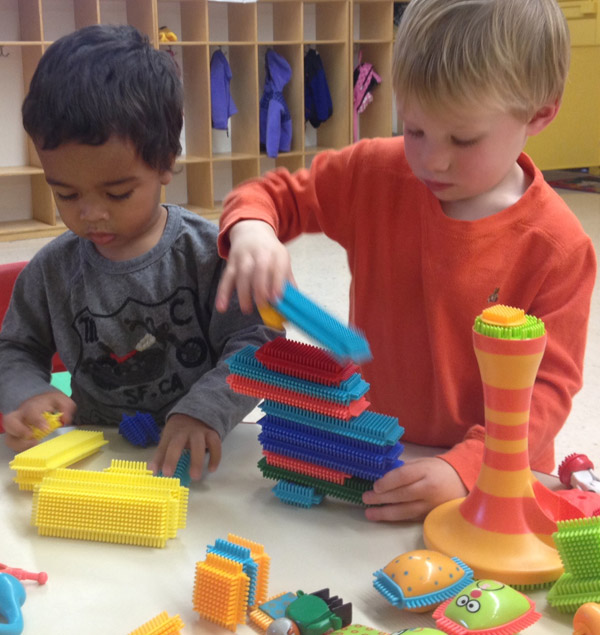 The goals of Compass SchoolHouse's 2's class focus on fostering a love of learning as well as on the development of positive school experiences. As children form friendships with new classmates and teachers, they make great strides in their social-emotional development, while also being exposed to the CSH Character Development Program and its emphasis on Respect, Responsibility, Honesty, Kindness, and Perseverance (ALWAYS keep trying). Through age appropriate learning activities, children's cognitive growth is also encouraged and supported.
The philosophy behind our 2's curriculum is that young children learn best by doing and engaging in creative play. This environment at Compass SchoolHouse provides the foundation for academic learning and enhances a child's physical, social/emotional, and creative growth . It is the preparation children need before they learn highly abstract symbols such as letters and numbers. As the school year progresses our students' play becomes more complex. The children design their own play, make decisions about materials and props, and begin to assert their own ideas and opinions about what they want to play. As our students begin to play interactively, we see growth in their abilities to follow the rules of a game, to take turns, to share materials, and to begin to cooperatively solve problems that emerge during the play.
Making strong personal connections allows children to feel confident and open to learning. In our 2's class children are exposed to small group instruction and work individually with their teachers to support their learning in pre-reading, pre-writing, pre-math, and art activities. Our Circle Time is an opportunity for children to come together in a positive classroom community and learn in an interactive group setting. Children dance, sing, listen to stories, and answer and ask questions.
Class Options (2 half day minimum):
Flexible choice of days
2 half days
3 half days
4 half days
5 half days
Hours
AM   9:00 - 11:45
PM  12:30 - 3:15